Party Ideas
I cannot even count all of the parties I have been to over the years, and for all of the parties I have been to, I have met so many nice and very clever Moms and Dads!!! If you are looking for ways to enhance your celebration (besides choosing our ponies and petting zoo, of course) here are a few ideas...all of them borrowed from very creative folk!!!
Many of you ask about bales for party decoration and additional party seating. Because we come to your party with our trucks and trailers full of animals, and some of us are getting old and have very bad backs (like me), we are not able to bring straw to your party. You are looking for bales of straw. You town or a town close to you should have a feed store that would sell bales of straw-you can also search for them on craigslist-you should expect to pay $5.00-$10.00 a bale.

I have seen the yummiest food at parties. Bags of chips stapled to a pallet looks country and doubles as cute decorations. Wagon wheel pasta anything. I have seen all food on a stick will make bite size bits for kids and more fun to eat. Popcorn and peanuts look yummy in tin pails, flower pots and brown paper bags and they double as simple table decorations. Cake Pops and cupcake towers are all the rage-and I am a sucker of frosting!! Taco trucks seem to be reasonable priced and serve a lot of people, which will lighten your work load so you can enjoy your party and guests. Hot dogs and beans is as cowboy and cowgirl as it comes.
ORDER A UNICORN
We happen to own a UNICORN!!! Tiffany, Napoleon and Bernie are a very special, and rare breed of pony!! Order our Unicorn to make a childhood fantasy come alive. Please be sure to make a note of this special order on your reservation form. There is an additional $35.00 charge.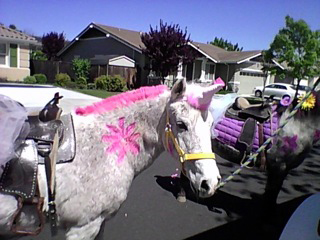 Kudos go to Jennifer Livermore of Discovery Bay who hosted an adorable petting zoo party for her daughter in the fall of 2006. At a local park she decorated each table with table clothes and homemade cakes. Each table had a different farm animal, pig, sheep, cow, pony. They were adorable center pieces and yummy for the guests. She baked and decorated farm animal cut out sugar cookies, put them on a skewer and filled flower pots with Styrofoam, (cover the Styrofoam with peanuts to hide) stuck in the cookies and they were gone before I could get a picture, but so cute!!!! Fill theme colored $1 store little tin buckets with peanuts as balloon weights. She had a cute fabric lined basket filled with jars of baby food for the young guests, as this was a celebration for her daughter's 1st birthday) She created a caramel apple buffet, oh yummy!!! Have an adult of two to supervise this melt caramel in crock pot, or something that will keep it warm and dip-able. Place apples on sticks, dip in caramel, then roll in your choice of goodies from dipping trays full of nuts, chocolate chips, coconut, butterscotch chips, min marshmallows, candy sprinkles, have sliced apples for quick dips as well. Make a farm animal cut out for photo ops, farm decorated bags full of popcorn looked cute at each place setting.
PLAY HOT POTATO
Just mark the potato with a big red H
Another creative Mom made hand painted wooden signs to mark games and snacks and other party highlights, built a corral out of rough rope for the ponies to walk in, so easy and soooooo cute!!!!!
A Christmas Party in Martinez in 2006 had our petting zoo for their Winter Wonderland themed event and we brought all white animals..beautiful!!!!
At another home in Discovery Bay we tied the ponies with pastel ribbons to a maypole and lead them and the children around and around at this Mary Poppins themed party. Children played to the soundtrack, had a spoonful of sugar race and decorated paper kites among other amazing ideas
You are all so creative, and each party is a new adventure. always remember that the children don't care what you do, just that you spend their special day with them!!!!!
Invite our pigs, goats, sheep, geese, all the barn critters for your Charolette's Web themed party!!! We can bring the pigs to schools for pictures with the kid's as they enjoy the story!
More fun party ideas…….
Paper Bag Sheriff Vests:
Use paper grocery bags, cutting out a vest design and have the kids decorate them...Adorable

Pan for Pennies:
Use any container filled with sand (you can buy playground sand at the hardware store), add pennies and dig for "GOLD" using hands, pie plates, sifters or....

Hot Dogs around a Campfire:
create a simple campfire circle with logs or rocks and paper flames and have the kids picnic here

Decorate Horse Shoes:
New horse shoes can be purchased at many hardware stores or local feed stores, kids can decorate them using all types of craft supplies...they make great party favors and really cute picture frames.

Use bales of Straw
for theme decoration as well as picture backgrounds and additional seating
Leather Pouches for penny bags or favor bags.
Also, red bandanas tied on long sticks like hobo bags are very cute and easy to fill with party goods. Looks great on tables in flower pots as centerpieces before the kids get them to take home

Make Cowboy Necklaces

Pin the Tail on the Pony

Needle in a Haystack
(a little messy, but very fun) undo a bale of STRAW and make a mound, hide treasures for the kids to find
Have the kids draw or decorate
an 8.5 X. 11 piece of paper and put there names on it, after the party, take to printing shop and have bound together atop calendar sheets...the birthday child can be reminded of their great birthday and friends all year.

Sack and Three Legged Race
Create back yard carnivals by serving snow cones, pop corn, adding balloons and clowns....you can create fun carnival games using balloons, balls, hula hoops and squirt guns.
If you have a specific theme, tell us and we can try to dress up our ponies to match. We can easily do holidays themes, Hawaiian themes, Western themes and whatever else creative.
Check out these Web sites to find a great selection of party goods and party favors:
If you have any great ideas, let us know so we can share them with others!!!